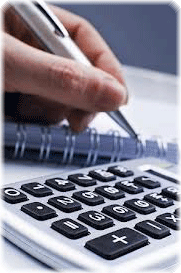 More and more companies are looking to leverage on the expertise of HR practitioners bundled with payroll & HR system. At Avelogic, we provide a comprehensive outsourcing services to ensure that our clients benefit from the best practice and the best of technology. Leave the hassle to us and focus on your core business activities.
As an all-rounded service provider, We understand that instead of managing your payroll function, you may seek to look for a secured, reliable and responsive service provider who enable the function of payroll processing as hassle-free as possible. This provider must not only provides responsive feedback, but they must also be in-tune with the local laws and regulations to ensure that the services provided must be of utmost dated and accurate. We assure you that after serving more than 200 clients in both Singapore and Malaysia, our clients are our most definite testimonial to our service and our commitment to data integrity.
The following is the illustration of our client and vendor relationship: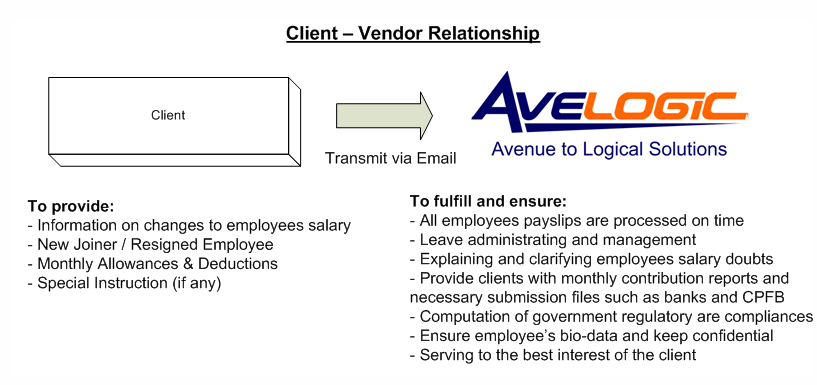 The following is the illustration of our monthly payroll processing concept: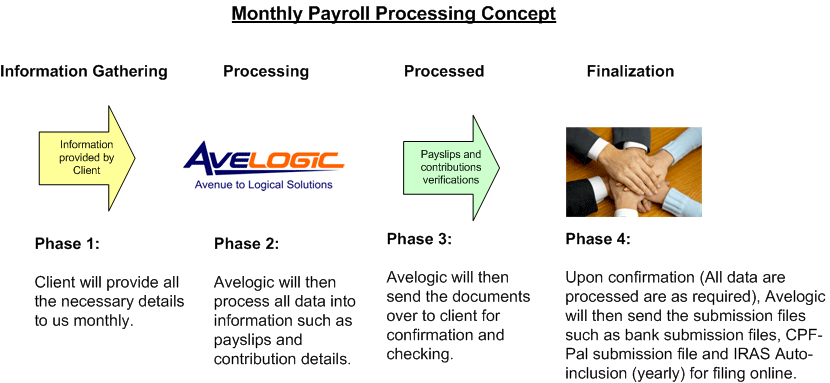 Our benefits are:
* Low Implementation cost
* Low payroll processing fees
* Charges are based on employee count
* Compliance with local Regulatory
Our services includes:
* Employee's self-service portal access including e-payslips and IR8A/IR8S/Appendix 8A/Appendix 8B access within personal profile.
* E-Claims (Allowing attachment of receipts for verification) and E-Leave (Up to 2 level of approval)
* Monthly payroll reports such as summary contribution reports, monthly differences report etc
* File Compliance major banks in Singapore such DBS, OCBC, HSBC, UOB, RBS, BTMU, BOA etc.
---
Feel free to write to us for more information or discussion via Request Quotation/Enquiry.
---