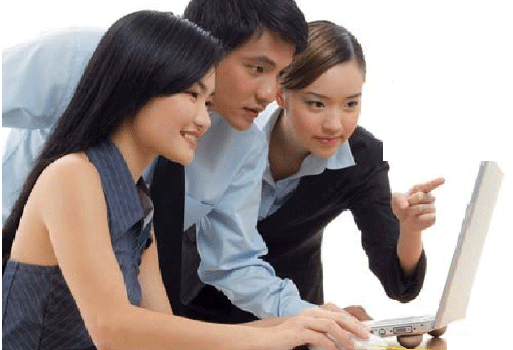 SmartHRMS – Payroll & Leave has redefine payroll applications by simplifying payroll processing. For Singapore companies dealing with complex CPF breaks (calculations along age breaks, for PR and citizens etc), we have made such payroll simpler, more accurate and convenient.
Employee management like Leave management, Education records management, Employee Assets managementetc are part and parcel of any company's routine and we provide integration of the payroll functions with this HR requirement. In short, we bring superb savings for you.
FEATURES – SmartHRMS Payroll & Leave
Payroll processing
Leave management
Staff advances & loan management
Monthly/daily/hourly rated salaries
Caters to multiple shift (working groups) for each employees
User definable OT and shift rates
Project costing – track employees by projects
Automatic bonus & pro-rata calculations of newly-joined/resigned workers
Track work permit /employment pass expiry
Track expiry of certification
Print checks or electronic bank submission

Manage courses attended
Manage assets issued to staff
Unlimited allowances & deductions to cater for the most complex remuneration plan
Load your letterhead & logo into your pay slip format
Time management system integration
Audit trail of payroll transactions
Scheduled updates
Data import feature
Web-based system work on common browsers
Fully secured server with encryption on database & 256-bit SSL protection
Easy to use – learn to use within 1 hour
 * SmartHRMS – Payroll for Singapore complies with all statutory payroll regulations relating to CPF, CDAC, MBMF, SINDA, ECF, SHARE, FWL, SDL, NS Pay, NWC, Direct Deposit to Bank GIRO, CPF contribution via CPF PAL-Internet, IRAS IR8A, IR8S, Appendix 8A and Appendix 8B.
---
SCREEN SHOTS
SmartHRMS – Payroll is easy to use with intuitive and functional screens: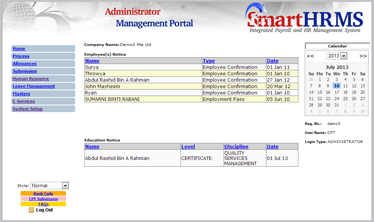 Clean cut screen with easy to navigate drop-down menu and calendar functions.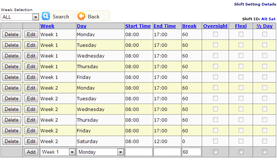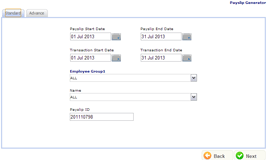 Create shifts and generate pay-slips at the click of a mouse.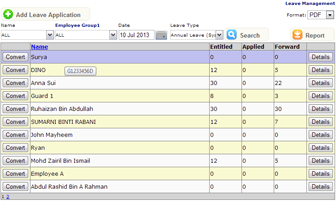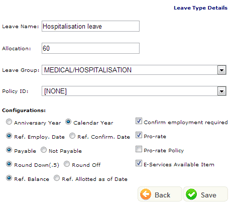 Powerful leave management module that integrates with the pay slip calculations.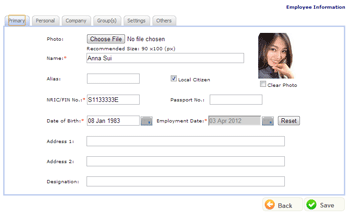 Employee master screen with quick Add capabilities that allows upload of photograph.
---
Contact us to learn how your company can benefit from Avelogic's SmartHRMS Online Payroll, Human Resources Solution, Time Management Solutions and our range of Time Attendance Systems that integrates transparently to SmartHRMS.
Feel free to write to us for more information or request for a onsite Demo via Request Quotation/Enquiry.
---